News from Jubany!!!
We left from Mar del Plata on October 30th, and after sailing with the Polar Pioneer for 8 days we arrived at Jubany. It was a great trip, excellent weather and opportunities to see dolphins and especially a high richness of sea birds. We really thank and appreciate the chance to travel with Polar Pioneer!
Since arriving at Jubany we all have been very busy organizing sampling, experiments, and helping each other a lot.  My activities are mainly related to the study of the newly ice free areas in Potter Cove which have become available for benthic colonization as a consequence of glacier Fourcade's retreat. We are focusing on the ecology and ecophysiology of macroalgae in these new areas.
Over this expedition, I've performed PAR (Photosynthetic Active Radiation) and CTD (Conductivity Temperature Depth) measurements, monitored long term macroalgae successional experiments and photosynthetic experiments. Our research is totally dependant on boats and diving logistics which makes the sampling experience very interesting, and also motivating because it is also a great opportunity to enjoy the spectacular view and distinctive biological biodiversity in the area.
All these activities are part of the cooperation between the Macroalgae groups of the IAA (Lili Quartino, Gabriela Campana and myself) and the AWI (Christian Wiencke and Katharina Zacher).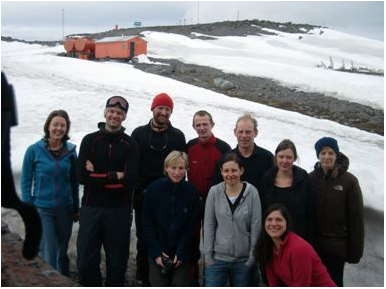 Jubany is not only a great place to carry out important and interesting scientific investigations but also a great place to collaborate and interact with other people from different disciplines, institutes, countries and cultures. Thanks a lot to all the people helping in Jubany and from others parts of the world!