Control del frente del glaciar Fourcade - Monitoring the retreat of Fourcade-Collins glacier
Hace tan solo uno pocos años el retrocesos del Glaciar Fourcade (Próximo a la Base Jubany) ha dejado zonas descubiertas de hielo, entre ellas un conjunto de pequeñas islas en la Caleta Potter. [blog in Spanish and English] 
Entre ellas están las denominadas Isla D y Owa (los nombres son informales), las cuales son afloramientos de roca basáltica y sectores de playa de unos pocos metros de altura, algunas decenas de metros de largo y ancho aproximadamente.
A los fines de evaluar el retroceso del frente del glaciar en este sector hemos colocado un par de puntos fijos de observación (uno en cada isla) a partir de los cuales se mide la distancia al frente del glaciar. Estos puntos permiten controlar el comportamiento del frente del glaciar a largo del tiempo en un área particularmente difícil y que es posible hacer gracias a la presencia de estas islas recientemente descubiertas.
Para la fijación de los puntos de medición se colocaron pequeñas marcas (3 cm) utilizando una perforadora a rotopercusión alimentada por un generador eléctrico y un pegamento especial. La distancia al frente glaciar fue medida con un telémetro laser en diferentes puntos y los ángulos se midieron con el auxilio de una brújula. Queremos dar nuestro especial agradecimiento a Oscar González "el Nono" que nos acompañó en la tarea.

Since a few years, the retreating Fourcade Glacier (the section of Collins Glacier next to Jubany Station) has opened newly ice free zones, for instance, a set of small islands in Potter Cove. Two of the islands, informally called Isla D and Isla Owa, are formed by a basaltic outcrop and some beach sectors. They jut out only a few meters above sea level and are a few tens of meters wide and long.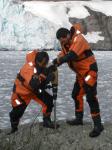 With the aim to evaluate the retreat of the glacier front in this area, we have set-up a pair of observation points (one on each island) from which to measure the distance to the glacier front. Using such points it will be possible to precisely monitor the glacial front retreat in an area of the glacier which otherwise is difficult to  study. This has become possible thanks to these 2 newly ice-free little islands.
To mark the position points we fixed small markers (3 cm diameter) using a power drill, driven by an electric generator, and special glue.
The distance to the glacier front was obtained with a laser telemeter at different points and the angles were measured using a geologic compass.
We would like to thank Oscar Gonzales, for bringing us to the islands and joining us on that very special day.