First dives for me...not a very lucky day!
Today I have been on the zodiac together with the Argentinean divers, Jorge, Sergio and Eduardo and Gaston in order to sample some cores from my 3 stations.
I am checking the differences in meiofauna, macrofauna and bacterial community structure, their stable isotopes signature (you are what you eat, and there is a "signature" in you) and I also would like to characterize this in the water column compartment. In fact the 3 stations differ in terms of sediment loads from the glacier discharge, since they are positioned in different zones of the cove and became ice free in different years during the ongoing retreat of the glacier. But they are all in the same depth at 15m.
Well, the plans are rarely completely fulfilled in Antartica! We managed to sample only one out of the three stations, the Isla Owa, which is in front of the base, on the northern coast of the cove. In the area of the station closer to the glacier, the famous Isla Doris, the sea surface was totally covered by ice chunks, and the station close to the "Rio Potter", the one positions east of the base, had a very bad bottom visibility and no diving activity was possible. Big chunks of ice broke from the glacier because of the high temperatures (way above 0°C) of the days before, which caused the water to melt inside the glacier and form blood vessel-like water streams in the ice. At night when it is getting cold, these blood vessels freeze, and this freezing chips the ice off the dormant giant!!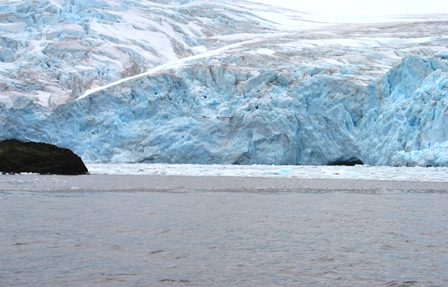 As this was our first attempt to collect undisturbed sediment cores under such adventurous conditions, we had to stop at this point. The divers collected 4 sediment cores after a few trials to work out a good technique. It is not easy to take cores without visibility on the bottom.   It was a funny trip of almost 3 hours and it is amazing how fast time goes by, while you are sampling in the cove…  
So, thanks to Jorge, Sergio, Eduardo y Gaston, and… I am waiting for new good weather conditions and better bottom visibility to collect another set of samples. Keep you all updated!